Usually at the start of a new year, I'll put together a "Top 10" post, listing the highest viewed builds for the previous year. You can read some previous ones here: 2010, 2012, 2013, 2015. This year, I thought I'd do something different, since I've found that the rating system isn't really fair for the builds that get posted towards the end of the year. So, for 2016, I'm going to simply list every build that was featured for the year! I hope you enjoy this retrospective look, and maybe even discover a build or two that you might have missed. Thank you all again for your support, and here's to many more builds over the next 12 months and beyond!
Kicking off 2016 was a highly-desirable Honda NSX, transforming from auto stocker into a carbon-clad track-ready weapon.
CLICK HERE to go to the post.
Next up came another certified insane creation from the Charnel House Racing lads. With their rear-engined V6 Geo Metro tearing up the Lemons tracks, they turned their attention to an even smaller car, a Subaru 360. Putting their trademark insanity into the project saw a Honda Fireblade bike engine shoved into the back.
CLICK HEREÂ to go to the post.
With garage builds being scarce on the site lately, 2016 made up for that void with this super clean (and super big) headquarters build for the guys at AWE Tuning.
CLICK HEREÂ to go to the post.
Longtime readers will know that I'm a sucker for certain cars, and the loveable Fiat 500 is one of them. Not to far from a 500, this slightly larger 850 was restored from the ground-up into an Abarth replica that saw tears of joy gushing down my face.
CLICK HEREÂ to go to the post.
There's never a bad time to take another look at Nigel Petrie's jaw-dropping creation. Last year, the man behind ETS posted a retrospective look at his Drift Hilux project, summarising the build into a single post.
CLICK HEREÂ to go to the post.
A full-size truck being slammed to the ground was reason enough for this Aussie blogger to throw a feature up. One of these dragging it's guts along a local highway would be sure to send fans (and cops) into a spin.
CLICK HEREÂ to go to the post.
Throwing a 350Z's 3.5ltr V6 into a Mk1 Escort is nothing to sneeze at, but when the whole deal is pieced together with a custom tube frame chassis, things really start to get interesting! The cross-over velocity stacks atop the ITBs are the icing on the cake.
CLICK HEREÂ to go to the post.
2016 also saw a previously-featured build hit the road. The retina-burning Porsche 993 RSR coupe had it's finishing touches made before finally putting tyres on the tarmac.
CLICK HEREÂ to go to the post.
Volksrods are always popular around here, but this one even more so due to it's high-level of detail and vintage-esque hue. It was certainly refreshing to see one stray away from the "rat" look.
CLICK HEREÂ to go to the post.
My YouTube addiction over the past year saw no signs of slowing down. Amongst the swanky produced channels saw a new and humble content creator appear; Jeff! Just a regular guy from Sydney building his own back-dated P-car hot rod, Jeff is the kind of "do-it-all" guy who will give anything a shot and share his findings with his loyal audience. My Friday nights are now no longer complete unless I get to sit down and watch the latest installment from his shed. And with two new project cars collected last year, it looks like we've got a whole lot more Jeff to look forward to.
CLICK HEREÂ to go to the post.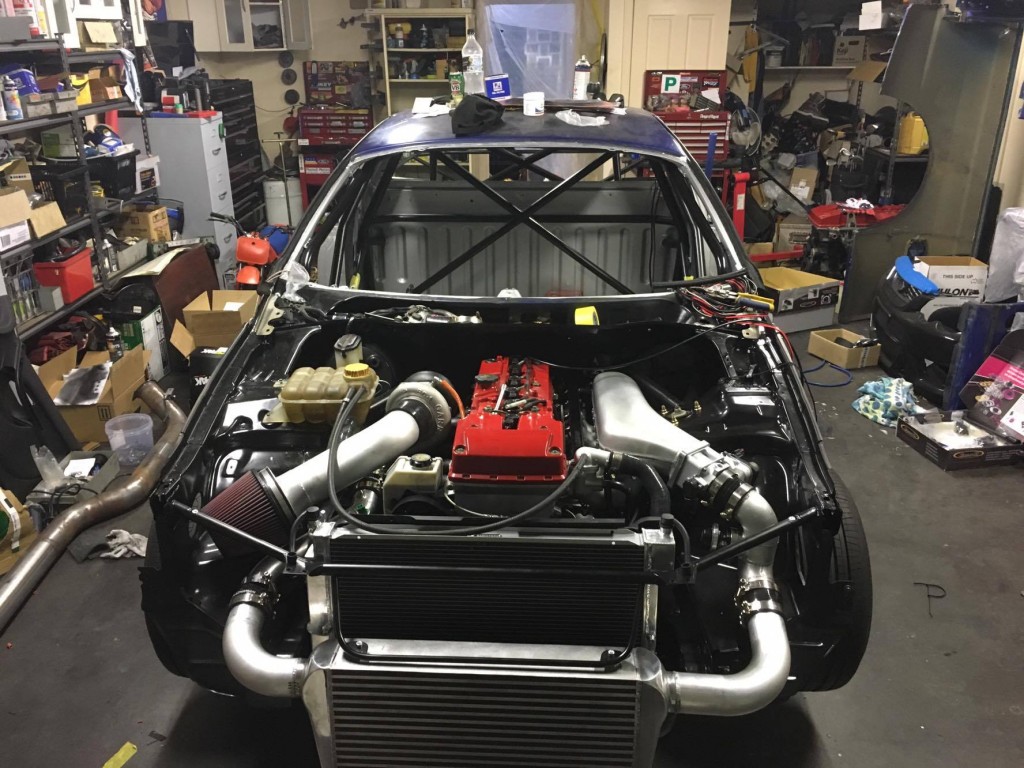 From the creator of the SR20DET RWD EG Civic saw a new build emerge. This time it was a local hero as the subject, a Ford Falcon ute, in XR6 Turbo guise. To make the car time-attack ready, an IRS rear-end was grafted in from a Nissan 300ZX.
CLICK HEREÂ to go to part 1 of the 5 posts.
Cosworth-swapped Escorts aren't anything new, but when they're rocking a Zakspeed kit AND an all-wheel-drive setup, you tend to sit up and take notice.
CLICK HEREÂ to go to the post.
The first chassis-swap for 2016 saw the underpinnings from a Mazda MX5/Miata used once again, as they tend to be a very popular doner for smaller cars. The choice of exterior for this one was to be a classic Volvo P1800.
CLICK HEREÂ to go to the post.
The vast majority of builds featured on Build-Threads.com are by home builders, guys in their own garage or workshop tinkering after hours. Every now and then a build from a larger corportation will pop up, like this BMW 507 restored by BMW Classic. The kicker for this one, was that it was once owned by Elvis himself.
CLICK HEREÂ to go to the post.
While most of us are happy to cut our metal with angle grinders and stick it together with a MIG, there are some very inspiration builders out there who kick it up a notch and serve as inspiration for the rest of us. This Audi A4 is the recipient of 3D scanning, CAD work, CNC machining, and a bunch of other high-end fabrication work.
CLICK HEREÂ to go to the post.
The second chassis-swap saw yet another Mazda MX5/Miata as the doner. This time it was being stuffed under a Mini Clubman Estate, which had to be widened to suit the Mazdas wider berth.
CLICK HEREÂ to go to the post.
Already going viral in 2016 and set to go even more-so in '17 is Mike's 1UZ V8 Datsun 620. Being a 3D Modeller at The Roadster Shop means he has a bunch of skill (of his own and his co-workers) at his disposal, which he's using in spades to create what will be the world's craziest Datsun 620. Plans have already changed since it's inception to include a couple of turbos in the bed. I can confidently say that if you're on the internet, you're going to be seeing a lot of this car over the next year.
CLICK HEREÂ to go to the post.
The third chassis-swap saw for a very unconventional pairing. I'm not sure how may people are fans of Chevy Lumina AVPs, or Pontiac G6 GTPs, but when you combine the two of them, great things tend to happen!
CLICK HEREÂ to go to the post.
Turning the Datsun world on it's head was this very different take on a 510 build. The fact that it's been built by a minitrucker is obvious, with the front clip being replaced by a Toyota truck front end, and a ground-scraping airbagged stance. The highlight for many was the bead-rolled sheet metal interior panels.
CLICK HEREÂ to go to the post.
Nothing says "cool" like an old ex-fire truck being recommissioned on a bagged S10 frame. Add a 7.3L turbo diesel and you've got yourself an ice-cold recipe for cruising.
CLICK HEREÂ to go to the post.
The final build for 2016 went to a thread I've been viewing in my own time for a long while. Calling it merely a replica of the Bullitt Charger does it no justice, as this build is so, so much more. The detail levels on the metal work are through the roof, and don't forget to check out the custom air condition setup in this pro-touring masterpiece.
CLICK HEREÂ to go to the post.